Solarbotics

Solarbotics GM3 Gear Motors Kit with Wheels and Brackets
Overview
Solarbotics is the sole commercial outlet for these impressive 224:1 gearmotors, which are very comparable to hobby servos for power, at a fraction of the cost! This model differs from the GM2 in that it has a 90 degree output shaft.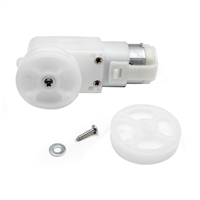 Solarbotics GM3 Gear Motors Kit with Wheels and Brackets
Usually ships in 5-7 business days.