Vantec

Vantec Dual 2.5" to 3.5" Hard Drive Mounting Kit
Overview
Easily mount your 2.5" HDD or SSD onto your 3.5" drive bay. This kit features universal mounting holes for most common PC cases. It supports up to two 9.5mm or one 12.5mm drives. It is perfect for system integrators and IT professionals.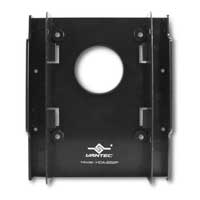 Vantec Dual 2.5" to 3.5" Hard Drive Mounting Kit
Usually ships in 1-3 business days.