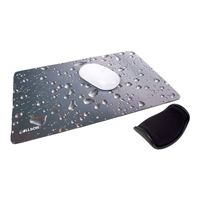 Allsop

Allsop Widescreen Mouse Pad Raindrop
Overview
Everything is going widescreen. Its all about the 16:9 ratio. Forget about that tired 4:3 ratio we are still seeing some old school television shows. From LCD and Plasma TVs, to computer monitors, both of the Laptop and desktop varieties, widescreen is where its at. So why not give your computer mouse full use of the screen? Allsop widescreen mouse pads are for those who find it necessary to navigate their screen without repositioning their mouse when they run into the edge of an undersized mouse pad. Were talking about graphics professionals, music producers, mechanical engineers and sleep-deprived gamers. While this pad is wider to match your screen, we use the same surface weve been famous for since we introduced our first mouse pad 30 years ago. Its smooth, but not too smooth. Its soft, but not too soft. Its made from a specially woven fabric to provide better tracking points for your optical mouse. And besides all of that, the raindrop image is a nice way to bring a touch of the outdoors to your desk.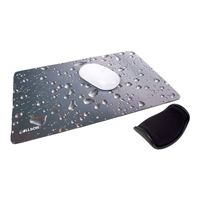 Allsop Widescreen Mouse Pad Raindrop
Usually ships in 5-7 business days.