Lian Li

Lian Li O11D Mini Tempered Glass ATX Mini Tower Computer Case - Black
Overview
With the capacity and flexibility of the O11D Mini, you can expand your creativity and water-cooling potential inside its compact frame. The 30mm space behind the side fan / radiator bracket allows users to mount fans, thus efficiently intake fresh air to directly cool the radiator and leaves enough space to install long GPUs in this compact case.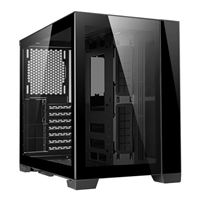 Lian Li O11D Mini Tempered Glass ATX Mini Tower Computer Case - Black
Usually ships in 5-7 business days.