Inland

Inland USB-C to 3.5mm Audio Adapter w/ PD Charging
Overview
This is a Type-c audio adapter external sound card with stereo, which allows to connect Type-C enabled PC, laptop to your 3.5mm audio headphone, headsets, speakers or microphones, helping you to enjoy fantastic music or record what you want to record while playing with your mobile phones or USB-C enabled PC. The USB-C female port can also charge for the host and supply power for the adapter at the same time.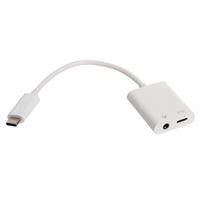 Inland USB-C to 3.5mm Audio Adapter w/ PD Charging
Usually ships in 5-7 business days.