Adafruit Industries

Adafruit Industries MONSTER M4SK - DIY Electronic Eyes Mask
Overview
Peep dis! Have you always wanted to have another pair of eyes on the back of your head? Or outfit your costume with big beautiful orbs? The MONSTER M4SK is like the Hallowing but twice as good, with two gorgeous 240x240 pixel IPS TFT displays, driven by a 120MHZ Cortex M4 processor that can pump out those pixels super fast. You'll get the same quality display as our Raspberry Pi Eyes kit but without needing to tote around a full Linux computer.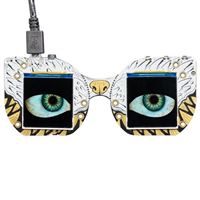 Adafruit Industries MONSTER M4SK - DIY Electronic Eyes Mask
Usually ships in 5-7 business days.