Adobe

Adobe Acrobat Pro 2017 Student Teacher (PC)
Overview
Convert files to PDF, get an integrated Acrobat toolbar for popular Microsoft and browser apps to quickly turn documents and web pages into high-quality PDF files, or create PDF documents from any desktop app that prints. Export PDF files, convert PDF to Microsoft Word or Excel and preserve formatting. Edit PDF files easily correct and re-flow text or update images with point-and-click simplicity, make changes right in your PDF file.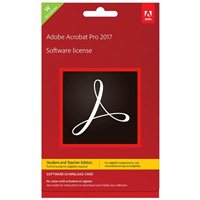 Adobe Acrobat Pro 2017 Student Teacher (PC)
Find online. Buy in store.