Available for In-Store Pickup Only.

Overview
This is a high-quality CP2104 USB-Serial chip that can upload code at a blistering 2Mbit/s for fast development time. It also has auto-reset so no noodling with pins and reset button pressings. The CP2104 has better driver support than the CH340 and can do very high speeds, and variable speeds without stability issues. Compared to the FT232RL and FT231X, the CP2104 has the same capabilities or better, at a great price! It even has the RX/TX LEDs to help you debug your data, they'll blink when the chip receives/transmits data.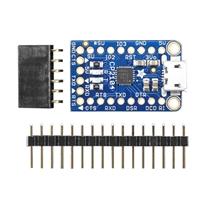 Adafruit Industries
Available for In-Store Pickup Only.