EZQuest Inc.

EZQuest Inc. USB 3.1 (G1 Type-C) to USB 3.1 (G1 Type-A) Cable 3.3 ft. - White
Overview
Connect a USB 3.0 External Hard Drive to Your New Thunderbolt 3-port MacBook The EZQuest USB-C to USB 3.0 Cable lets you connect an external hard drive to access and transfer data to your MacBook. You can also use it for charging your USB-C-ready computer via a USB wall charger: car charger: and even a power bank. Charge your MacBook or computer at home or on the go. USB-C Compatible with USB 3.0 and USB 2.0 Devices The USB-C to USB Cable lets you connect your USB 3.0 hard drives and other USB devices. With this cable you can also connect to older peripherals that support USB 2.0. Charge with What You Have If you already own a USB 3.0 or 2.0 wall charger: car charger or power bank you can use them with the USB-C to USB Cable to charge your new MacBook or USB 3.0 or 2.0 compatible computer on the go or at home. EZQuest's USB-C to USB-A Cable is Thunderbolt 3 port compatible.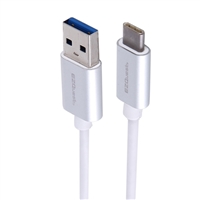 EZQuest Inc. USB 3.1 (G1 Type-C) to USB 3.1 (G1 Type-A) Cable 3.3 ft. - White
Usually ships in 1-3 business days.