Canon

Canon EF-S 24mm F/2.8 STM Lens
Overview
Incredibly lightweight, the EF-S 24mm f/2.8 STM is a fast and versatile lens with advanced AF and superior optics. With a 35mm equivalent focal length of 38mm, it's appropriate for a variety of purposes. The lens features optimized lens element placement and includes an aspheric element for high image quality from the center of the composition to the corners, and has specialized coatings on the lens elements to reduce ghosting and flare.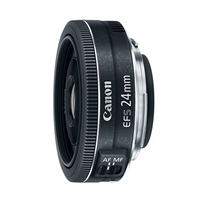 Canon EF-S 24mm F/2.8 STM Lens
Usually ships in 5-7 business days.