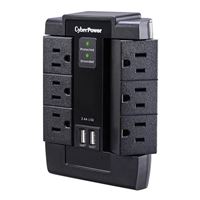 CyberPower Systems

CyberPower Systems CSP600WSU Surge Protector, 1200J/125V, 6-AC Swivel Outlets, 2 USB Charging Ports, Wall Tap Design
Overview
The CyberPower Home Office Surge Protector P600WSURC1 prevents spikes in energy caused by storms and electrical power surges from reaching your home office equipment such as laptops, small electronics, and chargers. The P600WSURC1 provides 1200 joules of protection and 6 AC outlets with a single wall tap plug. The two 2.1-Amp USB ports quickly charge USB-powered devices, including tablets.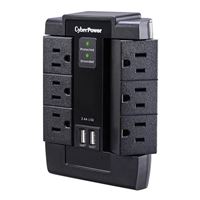 CyberPower Systems CSP600WSU Surge Protector, 1200J/125V, 6-AC Swivel Outlets, 2 USB Charging Ports, Wall Tap Design
Usually ships in 5-7 business days.