Adafruit Industries

Adafruit Industries Feather M4 Express - Featuring ATSAMD51
Overview
It's what you've been waiting for, the Feather M4 Express featuring ATSAMD51. This Feather is fast like a swift, smart like an owl, strong like a ox-bird (it's half ox, half bird, OK?) This feather is powered by our new favorite chip, the ATSAMD51J19 - with its 120MHz Cortex M4 with floating point support and 512KB Flash and 192KB RAM. Your code will zig and zag and zoom, and with a bunch of extra peripherals for support, this will for sure be your favorite new chipset.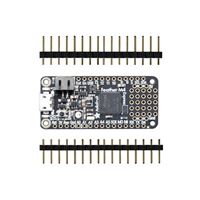 Adafruit Industries Feather M4 Express - Featuring ATSAMD51
Usually ships in 5-7 business days. Limited availability. May not be in stock at time of order. No back orders.