How to format a New Hard Drive on a Windows Computer
Description: This article will show you how to format a new or unallocated hard drive. When hard drives are new they need to be formatted before they can be used.
Using the Windows Operating System:
Open Disk Management.
On Windows 8:
Hold the Windows key and tap the letter X.
Select Disk Management from the menu.
On Windows XP, Vista, or 7:
Go to the Start menu, right-click on Computer, Select Manage.
Select Disk Management in the left pane of the window.
Locate the new hard drive.
Right-click on the space that says Unallocated with a black bar across the top. In the menu that shows up, select New Simple Volume….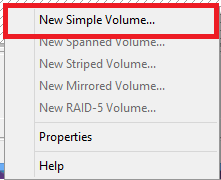 Follow the wizard to set it up in the desired drive letter and format.
Once it is finished the drive should be viewable in Windows Explorer.