How to use the System Configuration Utility in Windows 8 (msconfig)
Description: This technical article shows how to use the System Configuration Utility in Windows 8 (msconfig). One useful way to diagnose and isolate performance problems is to disable items that automatically load when Windows starts. You click your Search charm and type msconfig in the search bar (Run command under XP, Search Bar in Vista and Win7).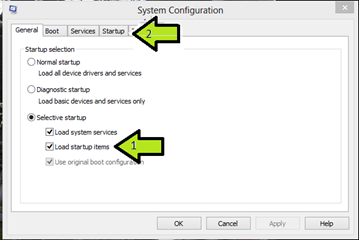 You can uncheck Load Startup Items (1) on the main page to disable everything and reboot the PC.

But what if you want to disable or enable individual items?

Up until Windows 8, you clicked on the Startup tab (2) and you could disable individual items. If you do this same thing under Windows 8, you'll see the following message:

To disable individual startup items you'll want to do the following:

Click on the Open Task Manager hyperlink that is displayed on the Startup tab. Other methods to start Task Manager include pressing the Ctrl+Alt+Delete keys at the same time or right-clicking on the desktop taskbar and selecting Task Manager.
On the Task Manager screen, click the Startup tab at the top of the screen.
In the list that appears, right-click on the item you wish to disable and select Disable from the context menu. The item(s) will then show as being Disabled in the Status column.
Click the top right corner of Task Manager to exit.

The change(s) will be in effect after you restart the PC. The process is the same if you wish to enable individual items.