How to use the Product Update Feature in ESET Version 6
The information in this article refers to a previous version of ESET. It is recommended that you run the most current version of ESET. Please see our tech article How to update your ESET Program to the Latest Version for assistance with updating your program. The information in the article below is provided as a convenience to those who may still have questions about the older version of the program.
Description: The product update feature in ESET allows you to update to the newest version of the program from within ESET itself.
From the desktop click on the ESET icon by the clock. It may show an exclamation point or a message saying ESET requires your attention.
From the Home page in ESET click on the Update tab. Alternately you can click on the link under New product version.
On the Update page under Product update, click on the button labeled Check for updates.
If there is a new version available you will get a popup on the desktop indicating a new version is available. Also the Check for updates button will now say Install.
The update will now download.
The first part of the update process is uninstalling the previous version. It is normal at this time to see a popup telling you to turn on your virus protection as at this point your previous version is uninstalled.
Next you will see a message on the icon saying that ESET requires your attention. Click on this notification.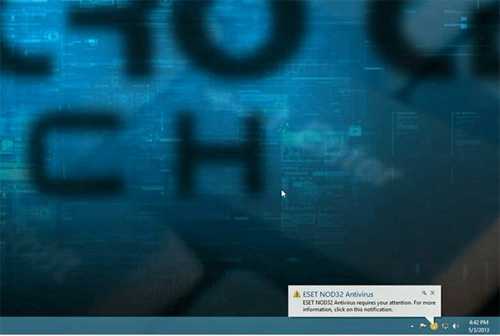 Upon opening ESET you will now see that the install process has completed. However a restart of your computer is required to complete the process.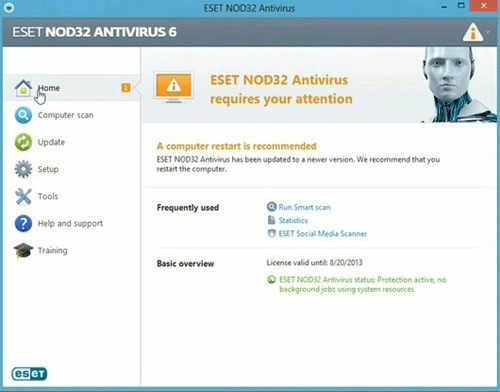 After restarting the computer if you open ESET and go to the update tab you will see you have a different version number installed now.