PowerSpec S512 Overview
Description: This is an overview of the PowerSpec S512 and its features.
The PowerSpec S512 is one of our server model computers. It has the Intel Xeon E3-1230V2 processor, 8GB DDR3 ECC RAM, 3 Hitachi Hard drives in a RAID 5 and Windows server 2012 Essentials. The computer comes with a number of features; one of these is the 3 LAN ports on the motherboard, shown below: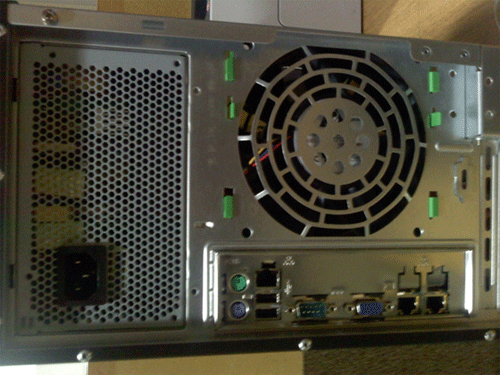 To get internet to the server, simply plug the Ethernet cable into the Top Ethernet port on the motherboard, right below the PS2 Ports.

This will give the server internet and the other 2 ports can act as a bridge or a network switch to have multiple computers on the same network if another switch is not nearby.
The computer has 4 hot swappable hard drive caddies which allows for easy setup and a nice controller card inside to manage this:

When first starting the server up, it is a standard Windows server setup. Sign in to the user and you will see a familiar Windows 8 start menu. From there all the tools normally available in a server will be listed, and others can be found on the desktop.
Once the computer is fully booted up, the server is ready to run any tasks thrown at it and manage multiple jobs at once to keep your business or home running smoothly.