How to disable Internet Explorer Metro Mode as the Default Browser in Windows 8
Problem: Entering a web URL or clicking on a webpage shortcut opens the page in the Start Screen version of the MSIE browser.
From the Start screen (shown below), if you type www.google.com…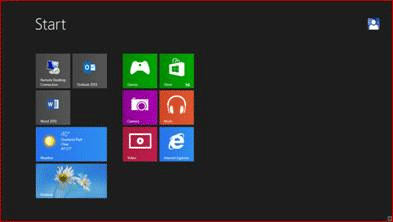 The Windows 8 Start screen.
You should see a search results screen as shown below. Press the Enter key.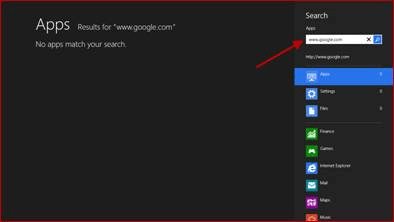 When you type in text in the start screen, Windows 8 will start searching for a match to installed applications.
Internet Explorer opens up in Metro mode by default as shown below. You can tell this is Metro mode because the address bar is at the bottom.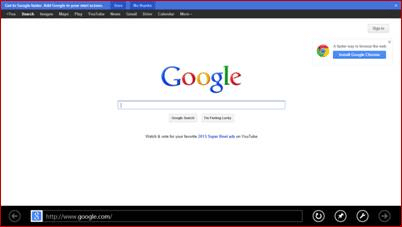 The "Metro" version of MSIE has the address bar at the bottom.
In order to change this setting and have Internet Explorer Browser Mode instead, click on Desktop from the Start screen.

Click on the Desktop tile.
To change the default mode to view web pages in, do the following:
Click on the Internet Explorer icon at the bottom-left to launch the browser.
Click on the Settings icon at the top-right corner and select Internet Settings from the drop-down list.
Click on the Programs tab.
Click on the drop-down at "Choose how you open links" and select "Always in Internet Explorer on the desktop"
Click on the OK button to save your settings.