How to change a Single File Extension to a Different Extension
Description: This article will show the steps necessary to change single files from one file extension to a different file extension.
Open the command prompt by typing cmd into the search bar above the start button (Windows 7 and earlier) and pressing enter or by typing strong>cmd on the tile page (Windows 8) and click on the Command Prompt icon.


The next steps will be directing the command prompt to the folder the file is located in:
First open the folder that contains the file being converted.
Click on the address box where there is a folder icon followed by a folder address such as (example): C:/Users/TechSupport/Desktop/NewFolder.
It will turn blue. Copy this address by right clicking on it and choosing copy.

Bring the command prompt to the front, type cd, press the spacebar once to put a space after cd, and then paste the folder address by right clicking on the empty space to the right of cd and choosing paste. Press the enter key.
You will get another line that shows the folder address you just entered.

At the command prompt type dir /b followed by the enter key to list the contents of the folder. Find the file you are looking to change.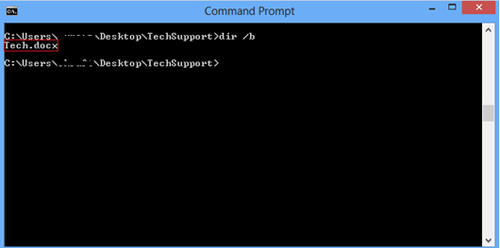 Type rename filename.ext filename.new where the filename is the specific file, .ext is its current extension and .new is the extension the file is being changed to - such as Techsupport.jpg Techsupport.png Press the enter key.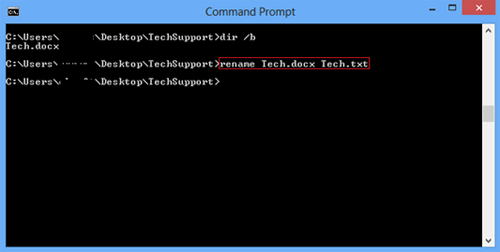 Check the folder that contains the file and it should have the new extension on the file type. Be aware that simply changing the file extension of a file may or may not allow the file to continue to function as expected.