How to save space on Solid State Drives (SSDs) in Windows 8 - Part 4
Description: This is a technical article on the topic of saving space on Solid State Drives. Part Four covers moving the index files. The purpose of this article series is to show how to save space on Solid State drives, which are typically smaller than standard hard drives. In this article we will use a secondary hard drive, presumed to be larger than the solid state drive, as sort of a repository, so we may move files from the faster SSD drive to the bigger standard hard drive.
Index Files
The Search Index is one of the best features of Windows 8 - when you search for anything on your computer, it pops up almost instantly. We certainly don't want to disable this feature, so what we will do is move the index to save space. We will be moving this from the C:\ drive (SSD) to the D:\ drive (HDD). This configuration may differ per system, so make sure the drive letters are right with your system.
From the Windows 8 Desktop mode move your cursor directly into the lower left corner until you see a mini user interface icon appear.
Right click and select Control Panel from the technical start menu.
Once in the Control Panel, go to the upper right and type index into the search bar.
Click on Indexing Options.
Once on the Indexing Options page, click on Advanced.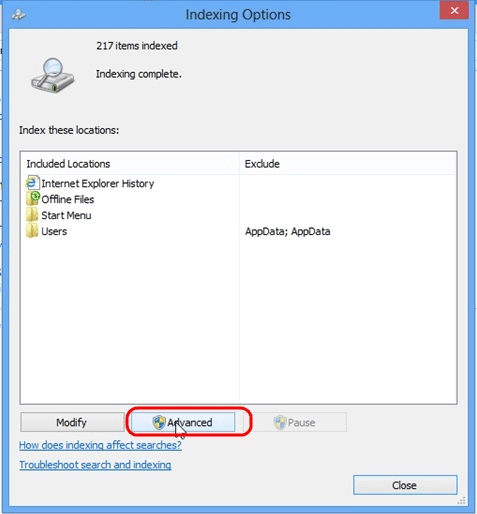 Click on Select New.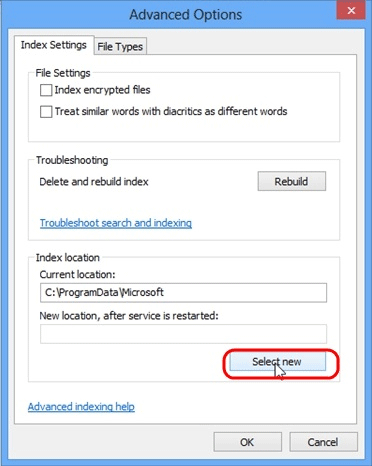 Select the D drive then choose Make New Folder.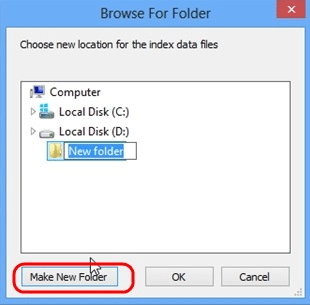 Enter a name for the folder, select that folder and then click OK to complete.
Note: You can put the Index wherever you like, the above is just an example.
Click OK on the Advanced Options window.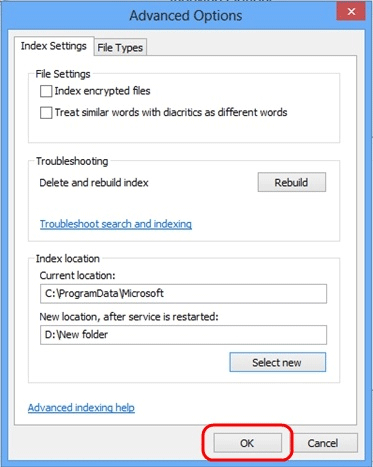 Restart your computer to complete the process. Once complete, the Index will have been moved from the C:\ to the D:\ drive.
This article is part 4 of a 6 part series.
Part 1 of this set, Paging File, can be found here.
Part 2 of this set, Disabling Hibernation, can be found here.
Part 3 of this set, System Restore, can be found here.
Part 5 of this set, User Directory Location, can be found here.
Part 6 of this set, Program Directory Location, can be found here.