HOW TO: Schedule a Virus Scan with ESET NOD32 Version 6
The information in this article refers to a previous version of ESET. It is recommended that you run the most current version of ESET. Please see our tech article How to update your ESET Program to the Latest Version for assistance with updating your program. The information in the article below is provided as a convenience to those who may still have questions about the older version of the program.
Description: This article will show how to schedule a virus scan with ESET NOD32 Version 6.
Open the ESET program by clicking on the ESET icon on the taskbar next to the time.
The Icon may be green , yellow , orange , or red .
You may have to click on the arrow that points up to expand your icons to find the ESET icon.
Click on Tools, and then click on Scheduler.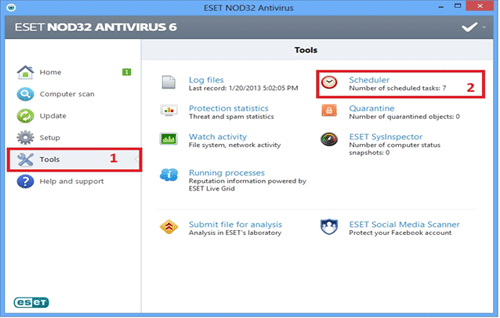 Click on Add.
Select Computer Scan from the drop down menu and click Next.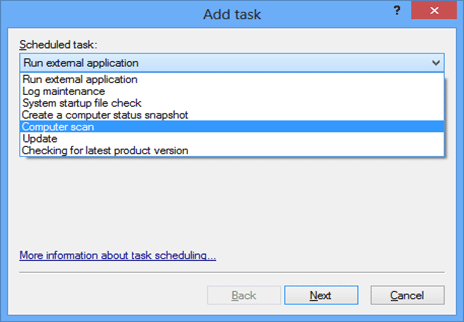 Name the task and choose when to run the scan and click Next.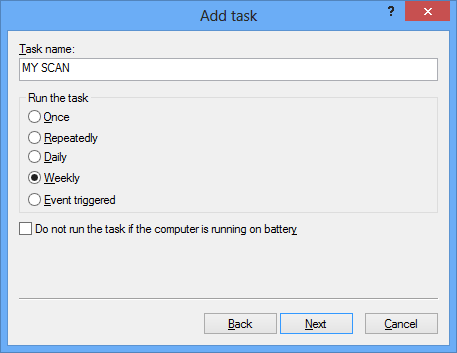 Set time and days to run the scans and click Next.
Select Run the task as soon as possible and click Next.
Confirm the scheduled task and click Finish.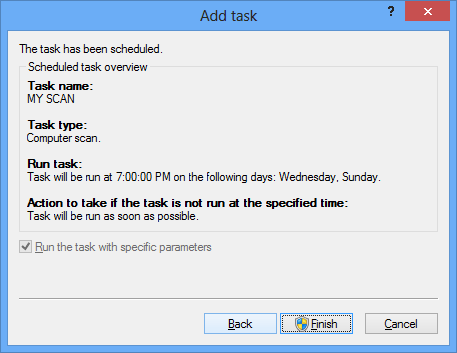 Put a check in the box next to Computer and click OK.