IMPORTANT: Can I run Windows 8?
Description: This article will show you how to determine if you can run Windows 8 on your current computer. It will also show you how to run the Windows 8 Upgrade Assistant. The Windows Upgrade Assistant is a tool from Microsoft. This tool will analyze your current operating system and tell you what changes you may need to make to migrate to Windows 8.
Open a browser and go to this page.
This page will list all of the system requirements to run Windows 8. In addition it will the list the requirements to run certain optional features of Windows 8.
Additionally Microsoft has a tool you can download and run. This tool will run an analysis of your current system and tell you if you can run Windows 8 and what changes you will have to make to be able to run Windows 8. This is called the Windows 8 Upgrade Assistant.
This tool can be downloaded here.
Click on the "Download Upgrade Assistant" button appropriate to your current situation.
Select Run to start the program.
The program will now start.
The Upgrade analysis will begin.
When the analysis is complete click on See compatibility details at the Here's what we found screen.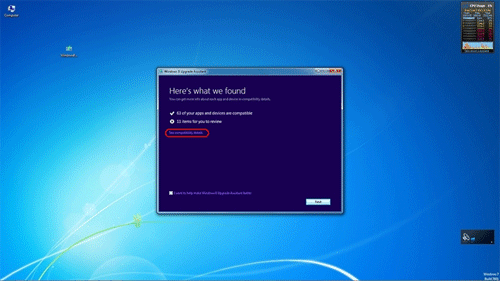 This screen will contain the Compatibility details. It is divided into two sections, the first being For you to review.
Here you will find information on what programs will not work with Windows 8. Some may be reinstalled, however some are completely incompatible and will need to be replaced. Scroll down the list to continue.
The next section is entitled Compatible.
This section will list the software that you will neither have to reinstall or replace. These should work with no intervention from you.
Click on Close to continue.
This takes us back to the Here's what we found screen. Click Next to continue.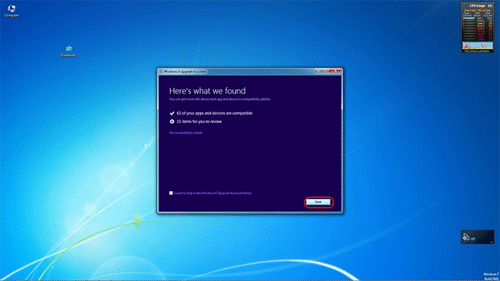 This brings us to the Choose what to keep screen.
Make your selection and hit Next to continue.
The results shown below will depend mainly on the Windows version you are upgrading from.*
Here you can choose to buy online or close to continue and install with media already purchased.
Shown below is a chart from Microsoft that will explain just what you can bring with you when you upgrade to Windows 8. These will depend largely on what version of Windows you are upgrading from.*