INFO: What is the difference between Windows 8 and Windows 8 Pro?
Description: This article explains the difference in features between the two versions.
Windows 8:
This is the basic version of Windows 8 which comes in both the 32 bit and 64 bit formats. It includes all the basic Windows 8 features such as the Start screen with live tiles, Internet Explorer 10, the Windows store to shop for apps, connected standby, Windows desktop, and many others. This version lacks some business tools compared to other versions, and is more geared towards the home user. It only allows upgrades from a Starter, Home Basic, or Home Premium version of Windows 7.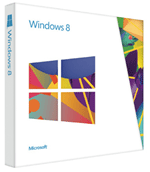 Windows 8 Pro:
This is the higher end version of Windows that is geared toward business users and avid computer users. It includes all of the Windows 8 features plus additional features such as Remote Desktop, Encrypting File System, Hyper-V, Domain Join, BitLocker, BitLocker To Go, Virtual Hard Disk Booting, and Group Policy. It also comes in both the 32 bit and 64 bit formats and allows upgrades from all versions of Windows 7 except Enterprise.