INFO: What are Windows 8 Apps?
Description: This article defines what "Apps" are, their uses and how to access them.
Introduction
Every operating system (Windows, Mac OS, and Linux) employs the use of applications. Applications are software programs that provide some intended function. For example, a word processor application like Microsoft Word allows you to type documents. Applications can be provided through a CD or DVD, can be downloaded from the internet or even require an internet connection for use. In essence, they are a central component of your operating system.
What is an "App"?
You may have heard the exclamation "There's an app for that!"
The latest iteration of Windows, Windows 8, introduces the use of apps. Abbreviated from the word applications, Windows 8 apps come in all forms and, among other things, allow you to view a PDF file, perform a quick calculation or view the latest message in your e-mail mailbox.
The Windows Store allows you to "browse lists of tops apps, view staff recommendations, and get personalized picks based on apps you already own". For more information on how to view a complete list of your available apps:
Windows 8: App integration
Windows 8 provides a plethora of apps built right into it. There are two methods to access your apps:
1: The Windows key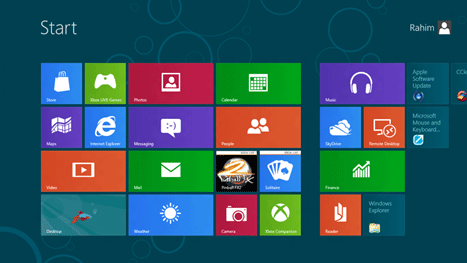 2: On your keyboard, press the Windows key and the "F" key: the Windows Finder will open.
To view a complete listing of your apps, click on Apps on the right-hand side.