INFO: Taking a look at Windows 8 Advanced Startup Options
Description: This article will show you how to access the advanced startup options found in Windows 8 Consumer Preview with a brief description of each.
Click on the hotspot located at the lower right hand corner of the Metro desktop.
When the charm menu appears click on the Settings charm.
Click on More PC Settings.
On the PC Settings menu, click on General.
Scroll down to find Advanced Settings. Clicking on Advanced Settings will restart your computer to take you to a menu entitled Choose an option.
At the Choose an Option menu select Troubleshoot.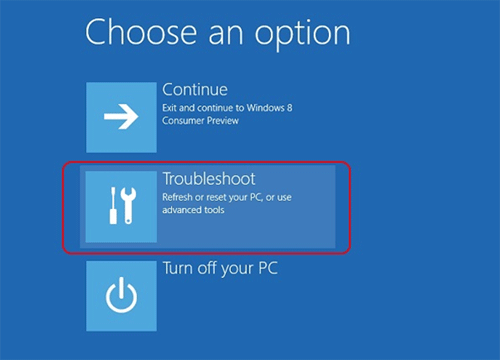 This brings us to the Troubleshoot menu. Below we will look at the options.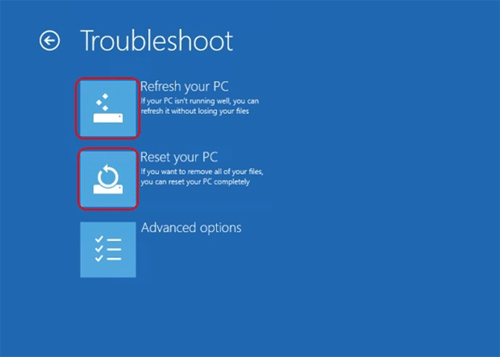 Refresh Your PC - Refresh is a cleansing of your computer. Your PC settings will all be reset to their defaults. However your files and personalization settings won't be changed. Apps from the Windows Store will be kept. However apps installed from discs or websites will be removed. A list of removed apps will be saved to your desktop.
Reset Your PC - Reset is the equivalent of doing a factory reset. It will set your computer back to the out of box state, or how the computer was the day you took it out of its box. All programs will have to be reinstalled; your personal data will have been deleted as well. Selecting reset will give you the option to scrub the hard drive. This option makes it more difficult for somebody to recover the deleted files. If you are giving your old computer away to charity, you would choose this option.
Advanced Options - Click on Advanced options.
Here we find ourselves at the Advanced Options menu: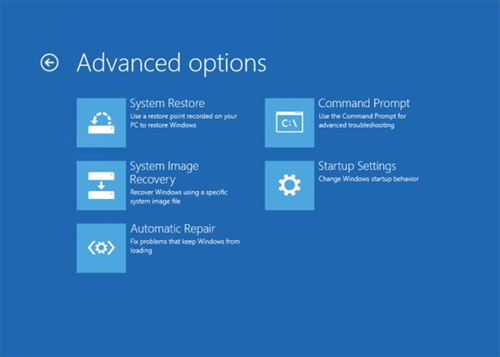 System Restore - This is the same system restore that can be found within the operating system. When you install software or updates your system creates restore points. These can be used to restore the system back to this point. Personal data is not affected, only system files are affected.
System Image Recovery - The System Image Recovery option allows you to recover Windows using a system image file. When you select this option, it will ask you to attach an external storage device or optical disk having a recovery image to begin the process. The Re-image your Computer wizard will then guide you through the process.
Automatic Repair - Similar to Startup Repair in Windows 7, this startup option scans for hundreds of files and settings, and if it finds a problem it will fix it.
Command Prompt - The Command Prompt is a feature of Windows that provides an entry point for typing MS DOS (Microsoft Disk Operating System) commands and other computer commands. By typing commands, you can perform tasks on your computer without using the Windows graphical interface. Command Prompt is typically only used by advanced users.
Startup Settings - As shown below Startup Settings allows you access to familiar choices such as "safe mode"; here it is coupled with several advanced debugging modes aimed at very advanced users and system debuggers.