What is the Difference Between a Patch Cable and a Crossover Cable
Straight Through (Patch Cable) are used:
Connecting a router to a hub
Connecting a computer to a switch
Connecting a LAN Port to a switch or computer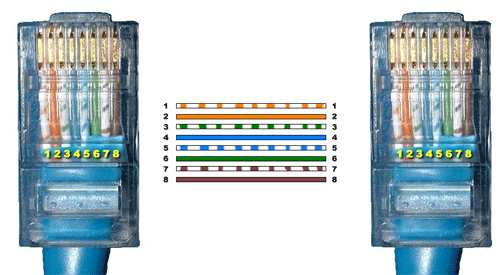 Straight through patch cables have each pin wired to the same pin on the opposite connector, no matter what color code sequence is used. RJ45 Network cables may follow the 568A or 568B specification. A straight through cable using the 568A specification is shown here.
Crossover Cables are used:
Connecting a computer to a computer
Connecting a switch to a switch
Connecting a router to a router
Connecting a hub to a hub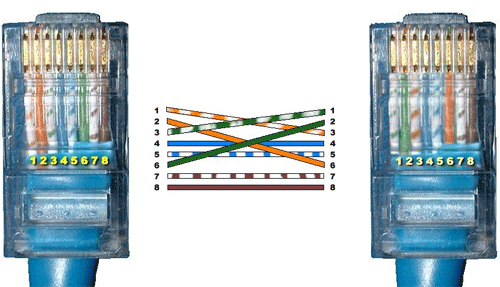 A cross-over cable is created if the 568A wiring sequence is used for one connector and the 568B wiring sequence is used at the opposite end. Note that the center pair (blue/white-blue) and the last pair (brown/white-brown) remain 'straight through" and only the orange and green pairs are crossed.
Reminder: RJ connections are numbered 1-8 with the RJ45 connector clip on the bottom and with the cable opening facing you.