How to reset Internet Options in Windows
This is a walkthrough on how to reset the Internet Options settings back to their original default states. This can be a very quick and easy way to solve many issues when your system has a good network connection, but your Internet browser cannot connect to any website.
Step 1: Open the Windows Control Panel from the Start Menu.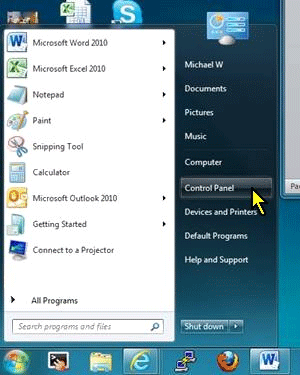 Step 2: Click Network and Internet
Step 3: Click Internet Options

Step 4: Within the Internet Properties window, click the "Advanced" tab at the top. Next, click the reset button under "Reset Internet Explorer settings".
Please note that you must have ALL instances of Internet Explorer closed in order to proceed with the reset.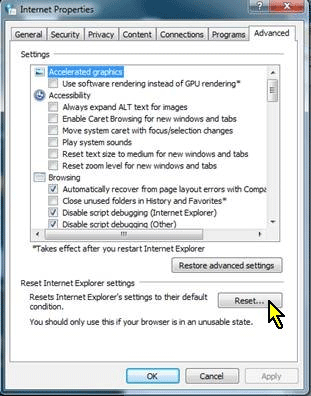 Step 5: It will then ask if you are sure you want to reset all Internet Explorer settings and give you an option to delete personal settings. For the first attempt, we want to leave the personal settings, such as home pages, bookmarks etc. If the issue persists repeat these steps and check the "Delete personal settings" box. Click "Reset" to clear any changes that may be causing your browser to fail when connecting to web sites. Click OK to close the properties window, and open your browser to see if that corrected the problem.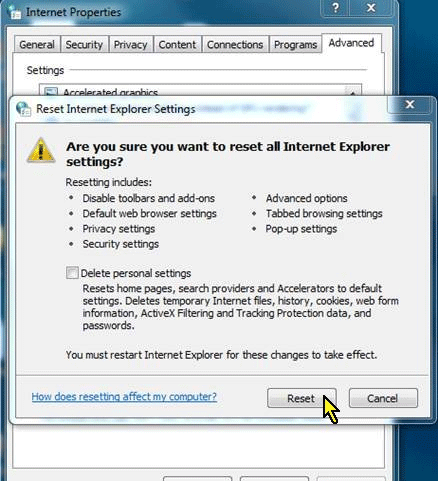 Other things to try:
If you have other computers on the same network, verify if they can connect to the Internet and send/receive email. If all computers have the problem, it's likely something external to the systems, such as your network switch or router. Try cycling power or resetting each of these devices to see if that restores your connections.
If just your computer is failing to connect, verify your network settings to make sure that the IP address, gateway, and DNS information is similar to other computers on the network (Each computer should have a unique IP address, but the gateway and DNS information should match.)
For more assistance contact Technical Support here.