How to install ESET NOD32 Version 5 over top of Version 4
The information in this article refers to a previous version of ESET. It is recommended that you run the most current version of ESET. Please see our tech article How to update your ESET Program to the Latest Version for assistance with updating your program. The information in the article below is provided as a convenience to those who may still have questions about the older version of the program.
Description: This article will show you how to install ESET NOD32 Version 5 directly over top of ESET NOD32 Version 4 without uninstalling Version 4 separately.
Under Download for Home click on I already purchased next to the product that you purchased. Note that NOD32 and Smart Security are NOT the same, and require different licenses.
After the page loads click on Download.
If prompted with a security warning, choose the Download File or Save option.
If a File Download Security Warning window pops up click on Run or Open.
If prompted again, choose Run or Open on Internet Explorer Security Warning page.
Click on Install on ESET splash screen.
Allow Download to complete to 100%.
Click I Agree on the License Agreement page.
Optional: Place a checkmark in I wish to participate on the ESET Live Grid Network page. Read the page for more information on the ESET Live Grid. Once complete, click Next.
Insert a checkmark in the Enable detection of potentially unwanted applications box, then click Next.
Allow installation to reach 100% to complete install.
At this time you may see an error message in the system trying to indicate that you have no antivirus. This is because the install is removing version 4 at this step. Simply wait for the uninstall process to complete.
When Complete click Finish.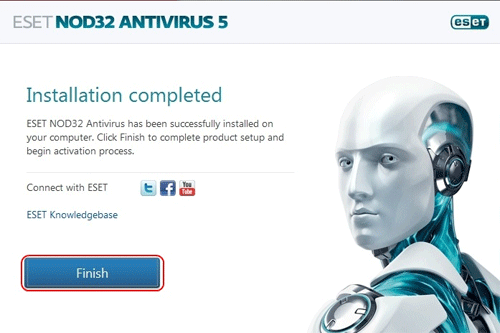 Your ESET Icon in the system tray will show as yellow with an "i" for information.

Open ESET by clicking on the "i" and it will indicate that you need to reboot the computer to finish to installation process.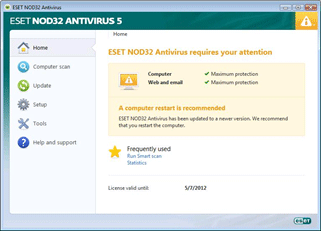 Reboot the computer to finish the installation.