How to change the Firewall Filtering Mode in ESET Smart Security 5
The information in this article refers to a previous version of ESET. It is recommended that you run the most current version of ESET. Please see our tech article How to update your ESET Program to the Latest Version for assistance with updating your program. The information in the article below is provided as a convenience to those who may still have questions about the older version of the program.
Description: This is a how-to article for ESET Smart Security on changing the firewall filtering mode. This can be useful if a trusted or known application is not getting sufficient access or is giving network connection errors, even when the computer is connected to the internet.
Open the ESET Security Suite by clicking on the Start button, then choosing All Programs.
On the All Programs menu, locate the ESET folder, then ESET Smart Security and open the program.
Check the bottom left of the newly opened ESET window. If it says Display: Standard mode, click on the Change button to set it to the Advanced mode.
If prompted, press Yes to toggle advanced mode.
On the left side of the ESET program, click on Setup.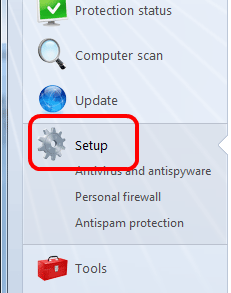 Click on Enter entire advanced setup tree... towards the bottom.
On the left of the new window, click on Personal Firewall.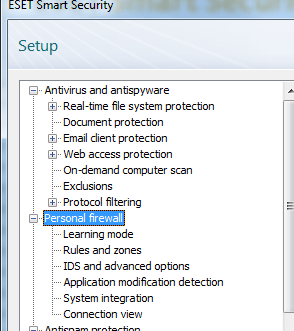 In the middle, choose the Filtering mode. In most cases, Automatic mode is recommended.