IMPORTANT: Basic Setup of a WinBook Security System
Description: This guide will walk through how to set up and connect the WinBook D6364HT+C7614VD Security System for local use. This particular system does not come with a hard drive pre-installed. A SATA hard drive is required to record and must be purchased separately.
Hard Drive Installation
Remove the three black screws from the back and the individual black screws from each side of the DVR.
Slide the top panel off the DVR.
Connect both the data and the Power cable to the SATA hard drive.
Line up the holes in the bottom of the hard drive with the holes in the bottom of the DVR and use the screws that came with the hard drive to secure the drive.
Note: This example picture shows only two screws, all four should be screwed in.
Replace the top panel and all five black screws.
Basic Connections
Place the 4 security cameras in the desired positions.
Connect the power and BNC using the cable provided to each camera and run the cables back to the DVR.
Connect the 4 BNC cables to the 4 Video In ports on the DVR.
Connect the Mouse to the port labeled USB MOUSE on the DVR.
Connect a VGA monitor to the VGA port.
Connect an Ethernet cable from your network to the RJ45 port on the DVR. Once those connections are complete the DVR should appear similar to below.
Using the 5 way splitter, connect each of the ends to the four cameras and DVR.
Note: The DVR Power is designated separate from the 4 camera power cables.
Plug in the AC Adapter and connect it to the splitter to provide the system power.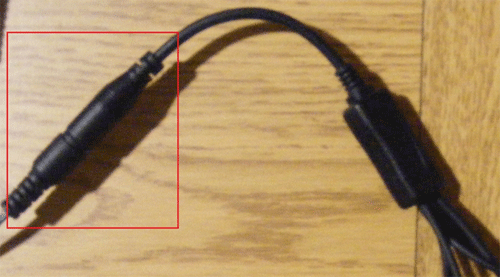 Once all of those connections are made the system will power up and you will have full control via the monitor connected to the DVR and using the mouse provided.