How to install Windows XP Mode in Windows 7 Professional
Description: This article will show how to install Windows XP Mode within Windows 7 Professional.
Open your browser and navigate to this link

Choose the operating system and language from the pull down menus
A screen with the download steps will appear.

Start with step 2 and download the Windows XP mode
A series of validation windows will come up that verify your computer is able to run Windows XP Mode.
After validation, download the file:
This is a large file - about 500 mb and will take some time to download.
People accessing the internet through dialup may want to order the CD from Microsoft.
Internet Explorer may give a warning about a file downloading.
Click the bar to allow the download.
In the next box select the option to Save.
In the location box choose the Download Folder.
The file will now start downloading.
After the download completes click Start, Computer and choose the Downloads folder.
Then double click on WindowsXPMode_en-us.exe
Give permission to run this file downloaded from the internet.
Click Next on the setup windows that appears.
Click Next on the install location window.
Click Finish on the completion window.
Next, download Windows Virtual PC at step 3.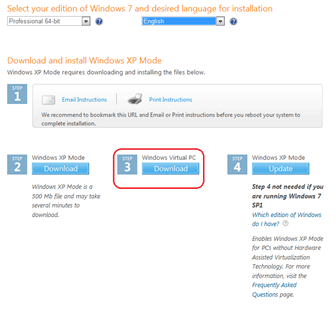 Save the file in the Downloads folder.
When the download is complete double click the file to run it.
Confirm the install of the Windows update - (Microsoft distributes this as an update for the computer).
Accept the license terms for this software.
The Virtual PC mode will now install.
Click on Yes, to allow this program to make changes to the computer.
When Finished, the installer will ask to restart the computer and will complete the install during startup.
Once this portion is installed there will be a menu item in All Programs called "Windows XP Mode". This must be run the first time to setup XP mode for the initial use.
Click on Start, All Programs, Windows Virtual PC, Windows XP Mode.
Accept the license terms for XP Mode.
Enter a password to be used for the XP mode, a user password and allow Windows to save this password.
Allow Automatic updates for the XP Mode and click Next
Allow the XP Mode to use shared drives so your files will be available to both Windows 7 and Windows XP.
The XP Mode setup will now use these settings to configure the first use of XP Mode. Please read the screens for basic information about how to use XP mode.
The opening screen of Windows XP! Success!
Note: You will need to install an Antivirus program on this version of Windows XP as well as on the Windows 7 computer.