How to change the Sharing Options in ESET Smart Security 5
The information in this article refers to a previous version of ESET. It is recommended that you run the most current version of ESET. Please see our tech article How to update your ESET Program to the Latest Version for assistance with updating your program. The information in the article below is provided as a convenience to those who may still have questions about the older version of the program.
Description:ESET Smart Security contains a firewall. One of the settings with this firewall is to Allow Sharing or to set Strict Protection to prevent file sharing. Immediately after installing ESET for the first time you will be asked to make a decision. Regardless of the initial decision you make this setting can be changed. This guide will walk through how to change the sharing options in ESET Smart Security 5.
Open the ESET software by clicking Start, All Programs, clicking the ESET Folder, opening the ESET Smart Security (or NOD32 Anti Virus) folder, and finally clicking on ESET Smart Security (or NOD32 Anti Virus).
Press the F5 key to open the Advanced options window.
Click the + sign to the left of Network.
Click the + sign to the left of Personal Firewall.
Click the heading for Rules and Zones.
Under the Trusted Zone heading, click the Setup button.
Select your preference between Strict Protection and Allow Sharing.
Descriptions are noted below the selections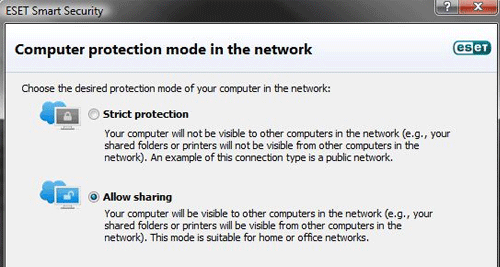 Click OK on the Computer Protection Mode window and Click OK on the Advanced Options menu.