Troubleshooting no wireless activity on a Dell Inspiron 15r series
Troubleshooting no wireless activity on a Dell Inspiron 15r series
This article will provide some initial steps to troubleshoot the problem of not being able to get online wirelessly on a Dell Inspiron 15r series notebook.
Problem: Your new Dell 15r notebook computer is not able to connect to a wireless network. You get an error stating that the wireless card is not active or installed.
Resolution: This is a problem when the wireless card in the Dell 15r series notebook is disabled or not powered on. To resolve this problem we will be activating the wireless card through the function keys on the notebook.
Make sure the notebook computer is on and computer is at the windows desktop.
Hold down Fn and press F2. This toggles the power on/off for the wireless network card on the notebook. Each time the F2 is pressed, it will cycle on/off for the wireless network card.
Two status icons will appear on the screen when the function keys are pressed:
When the wireless is enabled: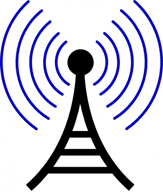 When the wireless is disabled:
For more assistance contact Technical Support here.