HOW TO: Configure SLI Multi-GPU Graphics
This document details the installation and setup of SLI on any computer. SLI is nVidia's Multi-GPU solution, designed to share the load of graphics rendering between two or more graphics cards. SLI can increase performance in gaming, CAD, and other 3D and multimedia-heavy applications. This document assumes that the cards are physically installed in a system with compatible cards attached with a SLI bridge, a compatible motherboard and a compatible power supply. While this document is designed for Windows 7, it may work with other Windows operating systems.
1. With the cards installed power on the computer.
2. Once in Windows, insert the CD included with first graphics card and choose the appropriate install option or visit
www.nvidia.com
to download the latest drivers and begin the installation.
3. When prompted with the nVidia software license agreement, review the terms and if they are agreeable, click on the Agree and Continue option.
4. Choose the Express (Recommended) option and click
Next
.
5. The installation will begin. Wait a few moments while the nVidia graphics drivers are installed.
6. Once the installation has finished, click on
Restart Now
if prompted and wait until the desktop to proceed to the next step.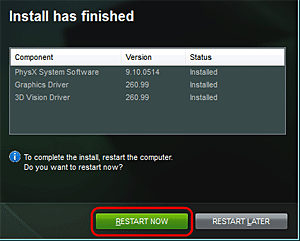 7. Right click on the desktop and choose the
NVIDIA Control Panel
.
8. Once the NVIDIA Control Panel is open, choose "
Set SLI and PhysX configuration
" option on the left, under 3D Settings.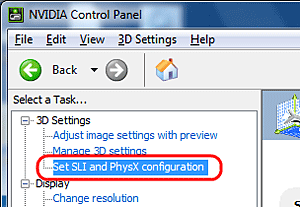 9. Check the "
Maximize 3D Performance
" box to enable SLI then click Apply to enable SLI.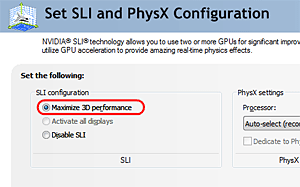 10. SLI is now enabled. Reboot the system and enjoy the increased performance!