LAPTOP DEALS FOR EVERY STUDENT


THE UNDISPUTED CHOICE FOR CLASS AND PLAY
Upgrade to NVIDIA GeForce laptops, for students who need thin, light, and powerful computers. Powered by the award-winning NVIDIA Turing™ GPUs , GeForce laptops can tackle the most challenging coursework and play the most demanding games. From data science and AI to content creation, design, and gaming, get a GeForce laptop that works and plays as hard as you do.
---
GEFORCE GTX LAPTOPS
Step up to GTX, your blazing-fast supercharger for today's most popular games and essential apps for students.
---
GEFORCE RTX LAPTOPS
Upgrade to RTX for faster performance, dedicated ray tracing and Tensor AI cores, and bigger memory.
---
GAMING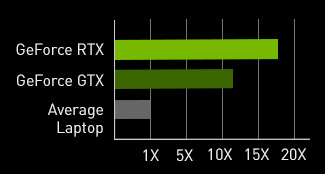 Core i7-8750H UHD630 Graphics vs. GeForce GTX 1660 Ti vs. GeForce RTX 2080 laptop.
Average frames per second on 1080p, highest settings: Fallout 4, Far Cry 5, Grand Theft Auto V, Middle-earth: Shadow of War, Sniper Elite 4, Tom Clancy's The Division, The Witcher 3, and Wolfenstein II: The New Colossus
CREATIVE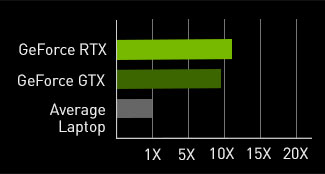 Core i7-8750H UHD630 Graphics vs. GeForce GTX 1660 Ti vs. GeForce RTX 2080 laptop.
Encoding speed of 4K video projects with various GPU-accelerated effects in Adobe Premiere Pro 2019.
AI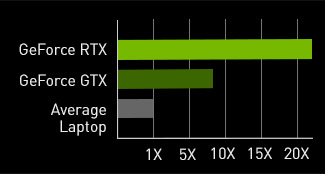 Core i7-8750H UHD630 Graphics vs. GeForce GTX 1660 Ti vs. GeForce RTX 2080 laptop.
Deep Learning Training Performance with TensorFlow ResNet-50 V1.5
---
GAMING
GeForce laptops work hard and play hard. When class work is done, enjoy blazing-fast performance and the most realistic graphics. GeForce laptops rival high-end desktops, allowing you to play popular games that average laptops can't.
CREATIVE AND DIGITAL ARTS
When creativity strikes, nothing should get between you and your vision. Crafted with precision to deliver dramatic improvements in productivity and over 10X the performance in creative applications such as the Adobe Creative Suite. GeForce laptops are made for student creatives who need power and flexibility.
DATA SCIENCE AND AI
GeForce GPUs deliver desktop-level performance, large memory capacity, and advanced features in thin and light form factors. GeForce laptops speed up workloads for data science and AI applications in engineering, computer science, and mathematics fields of study.
THIN AND LIGHT
GeForce offers the world's thinnest, fastest, and quietest high-performance laptops - a must for students on the go. Look for Max-Q models for designs as thin as 17mm and as light as 4 pounds.

EXTENDED BATTERY LIFE
NVIDIA Optimus technology intelligently optimizes your laptop for the outstanding graphics performance you need—when you need it—while extending battery life for longer productivity.

QUIET
Now, your plugged-in laptop runs much quieter while in use. Whisper Mode intelligently paces the performance and graphics settings for optimal power-efficiency.