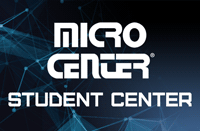 Special Student Savings!
Sign up and save an additional $100 on select laptops from Acer, ASUS, Dell, Lenovo, LG, Microsoft and Samsung
It's easy to get exclusive student deals sent to your .edu, .k12 or .cc email address.
Sign up for the coupons you'd like to receive. PLEASE NOTE: Each coupon is for your use up to five times, and can be redeemed in store or online for in-store pickup
The coupon codes will be emailed to you
For In-store Pickup: Enter the online promotional code during checkout
To shop in store: Bring your coupon with you, printed or available on your mobile device
More Info!
ELIGIBLE SKUS: 952820, 919381, 908863, 832873, 874248, 944009, 929968, 836502, 843227, 901520, 908392, 883298