Transforming Computer Graphics

GAME READY WITH GEFORCE GTX
Take on even the most demanding games at the highest settings with the advanced technologies, meticulous craftsmanship, and e-Sports-ready performance only GeForce GTX can deliver.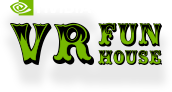 STEP UP TO
NEXT-GEN VR
See, hear, and feel every moment like never before with next-generation VR. Explore new levels of presence and immersion with brilliant cinematic graphics, the lowest latency, and plug-and-play compatibility with leading headsets—all driven by innovative NVIDIA VRWorks™ technologies.
G-SYNC ULTIMATE GAMING DISPLAYS
The groundbreaking NVIDIA G-SYNC™ display technology delivers the smoothest gaming experience ever. It synchronizes the display refresh rate to the GPU in your GeForce GTX-powered monitor or laptop, eliminating screen tearing and minimizing display stutter and input lag.
SHIELD: The Streamer for Gamers
NVIDIA SHIELD is a streaming beast. Fast, smooth 4K HDR video. Infinite apps and entertainment. GeForce gaming in the cloud or from your PC. And the power to control every experience with your voice — soon even your home. All in one game-changing device.