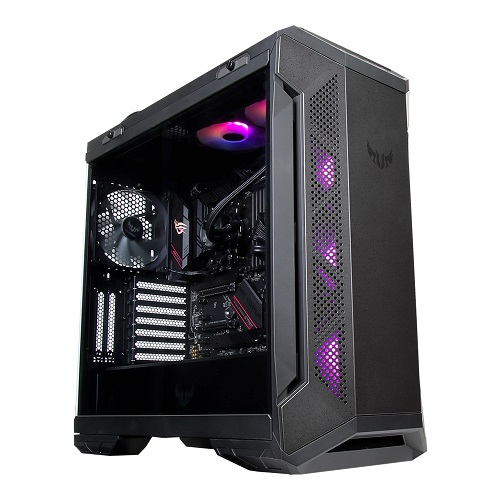 Custom PC Building Service

Wanting to build a custom PC but not sure how? Our technicians can help!
Same Day Service when purchased in-store 4 hours or more before store closing
Wanting to build a custom PC but not sure how? Our technicians can help!
Computers aren't born, they're made! As you know Micro Center sells all the parts necessary to build a computer. Whether it be a super gaming rig, simple business server, or virtual currency miner, we carry the very best parts for building them. If you choose to have us build it for you, we offer several choices, and we have dedicated, skilled professionals on hand to make the perfect system exactly as you like it.
ORDERING A CUSTOM PC
Using the Builder Tool, select the parts you would like for your new build
Select build it for me, and complete the order online
Once done, we will contact you for pickup
Go to Knowledge Bar or Service Counter for pickup.
Summary
Custom PC Building Service consists of installing all of the parts you have chosen to complete your pre configured build
Most of our pre configured options will still require an SSD or hard drive, memory, and a processor to be a fully functioning computer
Micro Center has partnered with the biggest names in the computer hardware industry to carefully choose the components for our barebones systems - our experts then pre assemble these systems which can be customized to meet your needs - whether you need the highest frame rate for competitive gaming, or you just enjoy a premium experience for casual computer use, we've got you covered
Custom PC Building Service Details
First we arrange all the parts and verify their inter-compatibility
We start by opening the case and assessing the arrangement of the parts
We then install the CPU, RAM and video card to the board, and POST test it with the power supply outside the case
Once verified to work, we assess the cabling and wires and how they will be run
We install the appropriate mounting hardware for the cooling system
If an NVMe solid state drive is chosen, this is installed in the first onboard slot closest to the processor
If any additional fans have been purchased, these are installed and arranged for the best airflow for cooling all components, then plugged in to the board for power
All power supply power cables are then connected to the motherboard, video card, hard drives (if used), as well as any case connections for case power, lighting, fan and or RGB displays
The rest of the wires and cables are carefully routed and tied for maximum cable management and neatness
What We Need From You

When you place your order for the build, please supply us with a phone number we can reach you at by text - if you cannot be reached by text please indicate this and we will attempt to call you to confirm your parts selection

Any special needs such as where you would like fans placed, etc. should be communicated as well
We'll Keep You Updated

When we receive your build order, we will send you a text to the number you gave us in your order, and let you know we have started the work
If for some reason we need more information from you we will use this method to ask you any questions we might have
We will send you regular messages as we work, and finally send you a text message or call you when the build is done
Our Expertise
Since 1979 we've been selling, repairing, upgrading, and building computers. Our COMPTIA A+ and OEM certified technicians have repaired and upgraded thousands of PCs for personal and business use.
Our long standing, and deep industry relationships enables us to become authorized service providers for several top tier brands.
Authorized Service Provider for Top Tier Brands






Configuring your Custom PC Build
Use our Custom PC Builder to select your PC parts online - be sure to include Same Day Pro Assembly - then let us take it from there! Some advanced configurations will require consultation with one of our Custom PC Experts before completing your order.
Reviews
Questions and Answers
Specifications
Service:
Custom PC Building Service

Wanting to build a custom PC but not sure how? Our technicians can help!
Duration:
Same Day Service
Subcategory:
Custom PC Build
Parts Warranty:
1 year for replacements parts, if your device is not covered under a manufacturer's warranty, or extended service plan. Warranty for retail parts are covered under the manufacturer's warranty and will vary by part and manufacturer.