Inland Inland 1TB SSD Gen 4.0 PCIe NVMe 4 x4 M.2 2280 TLC 3D NAND Internal Solid State Drive

Read/Write Speed up to 5000 MBps and 4300 MBps; Backwards Compatible with PCIe 3.0
Overview
Read/Write Speed up to 5000 MBps and 4300 MBps
Backwards Compatible with PCIe 3.0
Get SSD speeds and inject new life into your laptop or desktop PC with a solid state drive from Inland Performance. With a fast, reliable Inland Performance SSD, you will experience quicker bootup and shutdown, and quicker application response and data transfer speeds than with a typical hard disk drive without purchasing a new computer. Designed for the new Gen4 x4 PCIe slots to achieve the fastest read/write speeds available. SSD Capacity 1TB Lastest Extreme NVMe M.2 PCIe Gen4 x4 Interface PCIe 4.0 and NVMe 1.3 compliance - backwards compatible with PCIe 3.0 M.2 2280 M Key form factor fits directly into your motherboard Incredible sequential read/write speed up to 5,000MB/s and 4,300MB/s (CDM) respectively, making it nearly ten times faster than a SATA SSD 3D TLC NAND flash, resistant to shock, vibration, and movement - no overheating, no noise, keeps your drive performing at its best for years Power Management Support for APST / ASM / L1.2 - supports SMART and TRIM commands Advanced Wear Leveling, Bad Block Management, and Over Provision Ideal for mainstream PCs, laptops, and ultrabooks for personal, gaming, and business use.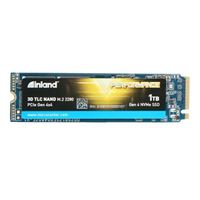 Inland 1TB SSD Gen 4.0 PCIe NVMe 4 x4 M.2 2280 TLC 3D NAND Internal Solid State Drive

Read/Write Speed up to 5000 MBps and 4300 MBps; Backwards Compatible with PCIe 3.0
Usually ships in 5-7 business days.