Thermal Grizzly

Thermal Grizzly Minus Pad 8 - 30mm x 30mm x 2mm
Overview
The easy to process and flexible minus pads are made up of different constituents, based on a ceramic silicon formula complex and nano aluminum oxide. Thus, the pads ensure a constant, optimal heat transfer.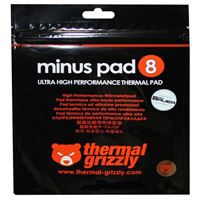 Thermal Grizzly Minus Pad 8 - 30mm x 30mm x 2mm
Usually ships in 5-7 business days.