Acer Acer Enduro Urban T1 - Blue

10.1" WUXGA IPS TFT Display; MediaTek Cortex A53 1.5GHz Quad-Core CPU; 2GB RAM & 32GB Storage; Android 10.0 Go Edition
Overview
10.1" WUXGA IPS TFT Display
MediaTek Cortex A53 1.5GHz Quad-Core CPU
2GB RAM & 32GB Storage
Android 10.0 Go Edition
For the families always chasing new adventures, they need devices with the hardware that can keep up with them. Whether youre exploring the urban wilderness or venturing to lands untamed, the rugged Acer ENDURO Urban T1 tablet boasts the durability and specs necessary to get the most out of whatever journey youre a part of. Designed for travel, Acers ultra-compact and super durable ENDURO Urban T1 10.1 is a rugged Android tablet thats perfect for on-the-go lifestyles that is certified to MIL-STD 810H and IP53 standards.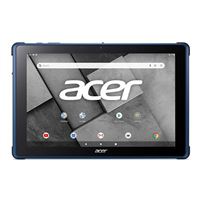 Acer Enduro Urban T1 - Blue

10.1" WUXGA IPS TFT Display; MediaTek Cortex A53 1.5GHz Quad-Core CPU; 2GB RAM & 32GB Storage; Android 10.0 Go Edition
Usually ships in 5-7 business days.