Dell
SKU: 284687
Mfr Part#: AWM15R6-7425BLK
Dell Alienware m15 R6 15.6" Gaming Laptop Computer - Black

Intel Core i7 11th Gen 11800H 2.3GHz Processor; NVIDIA GeForce RTX 3070 8GB GDDR6; 16GB DDR4-3200 RAM; 1TB Solid State Drive
---
Key Features
Intel Core i7 11800H (2.3GHz)
16GB DDR4-3200 RAM
NVIDIA GeForce RTX 3070 Graphics Card
1TB SSD
Full HD ComfortView Plus 360Hz
18 MINUTE PICKUP
Not Available
SHIPPING
Shipping Not Available
Overview Section
Mfr Part #:
AWM15R6-7425BLK
Alienware m15 R6 15.6" Gaming Laptop Computer - Black
Intel Core i7 11th Gen 11800H 2.3GHz Processor; NVIDIA GeForce RTX 3070 8GB GDDR6; 16GB DDR4-3200 RAM; 1TB Solid State Drive
Intel Core i7 11th Gen 11800H 2.3GHz Processor
NVIDIA GeForce RTX 3070 8GB GDDR6
16GB DDR4-3200 RAM
1TB Solid State Drive
Microsoft Windows 10 Home
Killer E2600 Network
2x2 Killer Wi-Fi 6 AX1650+Bluetooth 5.2
15.6" Full HD ComfortView Plus NVIDIA G-SYNC 360Hz Display
Boundary-breaking visuals. Game on with our fastest 15" G-SYNC display ever. Featuring Alienware Cryo-Tech cooling and an 11th Gen Intel Core processor.
---
Eligible for Free Upgrade to Windows 11 when available from Microsoft
This device comes with Windows 10 and is eligible for a free Windows 11 Upgrade. The Windows 11 Upgrade will be delivered online to qualifying devices starting in late 2021 and into 2022. Timing will vary by device. Certain features require specific hardware requirements be met. See Microsoft Windows 11 Specifications and Requirements for additional information.
---
Learn More About GeForce™ 30-Series For Laptops
GeForce RTX™ 30 Series GPUs power the world's fastest laptops for gamers and creators. They're built with the award-winning Ampere—NVIDIA's 2nd gen RTX architecture—with new RT Cores, Tensor Cores, and streaming multiprocessors to give you the most realistic ray-traced graphics and cutting-edge AI features. GeForce laptops with new 3rd gen Max-Q technologies use AI and new system optimizations to make high-performance gaming laptops faster and better than ever.
NVIDIA AMPERE ARCHITECTURE
The all-new NVIDIA Ampere architecture features new 2nd generation Ray Tracing Cores and 3rd generation Tensor Cores with greater throughput. The NVIDIA Ampere streaming multiprocessors are the building blocks for the world's fastest, most efficient GPU for gamers and creators. With NVIDIA Ampere Architecture you get:
NVIDIA Ampere Streaming Multiprocessors: The building blocks for the world's fastest, most efficient GPUs, the all-new Ampere SM brings 2X the FP32 throughput and improved power efficiency.
2nd Generation RT Cores: Experience 2X the throughput of 1st gen RT Cores, plus concurrent RT and shading for a whole new level of ray tracing performance.
3rd Generation Tensor Cores: Get up to 2X the throughput with structural sparsity and advanced AI algorithms such as DLSS. These cores deliver a massive boost in game performance and all-new AI capabilities.
3rd Generation Max-Q Technologies: Max-Q is a system wide approach to deliver high performance in thin and light gaming laptops. Every aspect of the laptop, chip, software, PCB design, power delivery, and thermals, are optimized for power and performance. Our 3rd gen Max-Q technologies use AI and new system optimizations to make high performance gaming laptops faster and better than ever.
Dynamic Boost 2.0: New AI-powered Dynamic Boost 2.0 automatically delivers the needed power between the GPU, GPU memory, and CPU for a larger performance boost than ever before. The AI networks in Dynamic Boost 2.0 manage power on a per-frame basis, so your laptop is constantly optimizing for maximum performance while you're gaming and creating.
WhisperMode 2.0: Delivers a new level of acoustic control for gaming laptops. It's been re-engineered from the ground up and custom built into each laptop at a system-level. You pick your desired acoustic level, and WhisperMode 2.0's AI-powered algorithms manage the CPU, GPU, system temperatures, and fan speeds to deliver great acoustics and the best possible performance.
Resizable BAR: Resizable BAR is an advanced PCI Express feature that enables the CPU to access the entire GPU frame buffer at once, improving performance in many games.
DLSS: NVIDIA DLSS delivers a massive performance boost at the same power by using the Tensor Cores to do groundbreaking AI rendering.
Intelligent Battery Life: NVIDIA Optimus® technology and Battery Boost work hand in hand to extend battery life whether you're working or playing.
©2020 NVIDIA Corporation. NVIDIA, the NVIDIA logo, GeForce, and GeForce RTX are registered trademarks and/or trademarks of NVIDIA Corporation in the United States and other countries. All other trademarks and copyrights are the property of their respective owners. Check with the laptop manufacturer about support for specific NVIDIA technologies.
Specifications Section
Model Number
AWM15R6-7425BLK-PUS
Color - Lid
Dark Side of the Moon
Operating System
Windows 10 Home
CPU Speed
11800H (2.3GHz)
Turbo Boost Speed
Up to 4.6GHz
CPU Main Features
Hyper-Threading Technology
Virtualization Technology
Thermal Monitoring Technologies
Intel Flex Memory Access
Virtualization Technology for Directed I/O (VT-d)
Intel VT-x with Extended Page Tables (EPT)
Intel Secure Key
OS Guard
Intel AES New Instructions
Intel Speed Shift Technology
Intel Optane Memory Supported
Intel Boot Guard
Intel Deep Learning Boost (Intel DL Boost)
Intel Volume Management Device (VMD)
Intel Gaussian and Neural Accelerator 2.0
Intel Smart Sound Technology
Intel Wake On Voice
Intel High Definition Audio
Intel Adaptix Technology
Mode-Based Execute Control (MBE)
Intel Control-Flow Enforcement Technology
Intel Image Processing Unit 6.0
Form Factor
260-pin SO-DIMM
Memory Slots (Available)
0
Memory Configuration
2 x 8GB
SSD Interface
PCIe NVMe M.2
SSD Configuration
1 x 1TB
Front Camera Resolution
720p
Front Camera Features
HD
Windows Hello Infrared Camera
GPU Type
NVIDIA GeForce RTX 3070
Built-in Microphone
Dual Array Microphones
LAN Data Transfer Rate
10/100/1000Mbps
WLAN
2x2 Killer 1650 802.11ax
Wireless Technology
802.11b
802.11g
802.11a
WiFi 5 (802.11ac)
WiFi 4 (802.11n)
WiFi 6 (802.11ax)
USB 3.1
3 x USB 3.2 (Gen 1 Type-A)
1 x USB 3.2 (Gen 2 Type-C)
Thunderbolt Ports
Thunderbolt 4 x1
Keyboard Features
Backlit Keyboard
Keyboard
Alienware mSeries 4-Zone AlienFX RGB Keyboard
Power Supply
240 Watt AC Adapter
Width
14.02 in. (356.11 mm)
Depth
10.73 in. (272.54 mm)
Height
0.89 in. (22.61 mm)
Weight
5.93 lbs. (2.69 kg)
What's in the Box
Alienware m15 R6 15.6" Gaming Laptop Computer, Power Cord
Preloaded Software
Microsoft Office 30-Day Trial
Questions and Answers Section
More Information Section
Windows 10
Microsoft Windows 10 combines the best elements of the Windows you already know, like the Start menu, with new features like space to pin your favorite apps and easy navigation so you'll feel right at home. Getting set up is faster and easier so you can get right to work or exploring the Windows App Store games or a new version of Office. InstantGo quickly boots up or resumes Windows while enhancements help balance memory and processor resources for maximum efficiency and Battery Saver automatically conserves power. Windows 10 also offers more built-in security features improving protection against viruses, phishing, and malware.
Solid State Drive
More reliable and significantly faster than traditional spinning-platter hardrives, solid state drives work more like a large flash drive giving you quick access to your data. With no moving parts generating heat, solid state drives use less power and keep your system cooler which helps reduce component failure. Light weight and durable, solid state drives are often found in portable devices since they are less prone to travel damage and accidents like being dropped.
DDR4 RAM
Double Data Rate, which is the DDR in DDR4, tells us something about the rate of data transfer in a given type of memory. The first number, as in DDR4, tells us the generation of the memory. DDR3 was the previous generation, DDR4 is the current generation. DDR4 offers faster data transfer rates than its predecessor. The second numeric value as inDDR4-1600- or DDR4-2666 is the speed. Memory type and speed must be matched to the requirements of your computer.
DDR4 has improved function compared with DDR3, in that it offers faster data transfer rates, It has more memory banks giving it increased capacity. It also requires less energy so it is more power efficient. The more capacity and the faster the speed, the better your memory is able to keep up with today's multi-core processors.
DDR form factors designate what they are used for. The DIMM form factor is used in desktop systems while the SO-DIMM form factor is used for laptops and all-in-one computers because of their slim profile.
Smart Cache
With Intel Smart Cache you benefit from increased data access because the cache is shared between the cores from a single access point and optimized by workload demand. That means your system is making maximum use of its resources, enhancing multi-threading, and reducing storage redundancy.
NVIDIA GeForce® RTX 3070
Graphics technology just keeps getting better and that includes the NVIDIA GeForce RTX 3070. Built on Ampere architecture, the 3070 delivers impressive increased throughput in cores and tensor cores, dramatically outperforming cards from its two predecessors.
The RTX 3070 also offers advanced AI rendering with impeccable image quality for an exceptional visual experience. It features real-time ray tracing for masterful realism. Specs include 8 GB GDDR6 memory, and 1.73GHz boost clock. The RTX 3070 also features NVIDIA Ansel so you can capture 360 degree HD in-game highlights and stream them live or share them as videos or still images. NVIDIA Reflex gives you the most responsiveness and the lowest latency. And it's packed with other great features like, DirectX 12 Ultimate, NVIDIA G-Sync with refresh rates up to 360Hz, game-ready drivers, and more.
DirectX 12
This is the commanding performance you've been looking for with more impressive frame rates, improved latency reduction, and the thrill of multi-core functionality, you'll discover gaming at a level you never imagined. DirectX 12 turns your graphics card into a multi-tasking workhorse thanks to asynchronous shaders and multi-thread communication between your processor and graphics card. Now that you've got it, what's your game plan?
Intel® Quick Sync Video
Built into every Intel Core™ processor, Quick Sync Video enables users to quickly create, edit, synchronize, and share video files from home or make them available online without the need for extra hardware. In addition, media conversion between devices takes just minutes thanks to hardware acceleration streamlining this process at incredible speed. That includes creating DVDs, Blu-ray™ discs, or editing and converting HD videos for portable media devices or uploading to your favorite social media sites.
Thunderbolt 4
Thunderbolt 4, like its predecessor, continues to be lightning fast, enabling a full 40GB/s for up to 2m of cable so you can quickly share HD files between devices or back up large volumes of data in no time. And, it can still deliver up to 100 watts of charging power for your smartphone or laptop. That's a whole lot of power and versatility for a tiny port. The improved capabilities of Thunderbolt 4 port enable dual 4K , or a single 8K display output, and require 32GB/s PCIe bandwidth. According to Intel the, Thunderbolt 4 controller 8000 series is compatible with, "the hundreds of millions of Thunderbolt 3 PCs and accessories already available."
Intel Optane Memory Supported
When combined with the Intel Rapid Storage Technology driver, this Intel Optane, manages multiple storage tiers and makes sure your most frequently used data is stored on the fastest tier. This helps to speed up system responsiveness and performance. Intel Optane Memory is a non-volatile memory that requires specific hardware and software configuration.
Intel® Speed Shift
Responsiveness is super fast with Intel Speed Shift. Power efficiency and performance are improved as hardware controlled P-states enable the processor to quickly determine the best operating frequency and voltage to maximize performance.
Intel Deep Learning Boost
Even more great technology for AI users. Deep Learning Boost enhances AI deep learning inference performance. Leave it to Intel to be on the cutting edge with a new Vector Neural Network Instruction amping Intel processor power features.
Intel Hyper-Threading Technology
Intel's hyper-threading technology means you'll get peak performance for your multithreaded applications thanks to higher processing throughput. To put it simply, each core of the processor is capable of working on multiple tasks at the same time.
Intel Virtualization Technology
Consolidates multiple environments into a single server or PC. It provides greater user flexibility that can help reduce costs, improve security, and increase resiliency regarding contingency planning.
Intel Virtualization Technology for Directed I/O
This VT-d technology takes VT-x capability a step further by providing support for I/O device virtualization helping to improve device performance. IT managers can benefit from improved system security and reliability, reduced downtime, and better use of data center resources.
Extended Page Tables
Boosting memory for demanding virtualizaiton applications, this hardware optimization, also known as Second Level Address Translation (SLAT), helps reduce power consumption and its associated costs while also aiding battery life.
Thermal Monitoring Technologies
This feature is designed to protect the processor in the event of unusual circumstances such as cooling fan failure which can cause damage if internal chassis temperatures become higher than normal. It works by reducing the processor's power consumption if the programmed thermal temperature is exceeded.
Intel Flex Memory Access
This Intel technology makes upgrading easier by "allowing different memory sizes to be populated and remain in dual-channel mode," according to Intel.
Intel Gaussian and Neural Accelerator 2.0
The coolest Intel technology yet for AI speech and audio applications, like neural noise cancellation. GNA is standing by to allocate CPU power to AI speech and audio tasks without so much as a flicker in processing power or performance.
Intel Image Processing Unit 6.0
This integrated image signal processor makes sure you get the best quality content anytime you use your camera to capture video or take those all-important memory shots of your life and times.
Intel Smart Sound
Let Intel's integrated audio technology, Smart Sound, assist you using voice and speech commands. Smart Sound delivers exceptional hi-fi clarity yet won't won't impact your system performance or battery life.
Intel Wake On Voice
With A simple command from you, your computer wakes from it's listening mode, or standby, to perform your tasks. Be assured while listening, your system is not consuming a lot of power or battery life. It's mearly waiting patienly to respond to your voice command.
Intel Adaptix
Using machine learning, the Adaptix suite of tools helps tailor your system to run at peak performance maximizing your advanced custom settings so you get the most from your favorite features like ultra realistic graphics and must-have overclocking.
Intel AES-NI
Advance Encryption Standard New Instructions AES-NI, is an encryption standard used by the U.S. government since 2001 and now is commonly used in software to protect network traffic, personal data, and corporate IT infrastructure. Intel processors use AES in addition to a set of six new instructions to enable hardware to do some of the work of AES, thereby accelerating its execution by three to 10 times compared with relying solely on software.
Intel Secure Key
Intel Secure Key is a feature designed to keep your data and personal information safe by strengthening encryption capability via a digital random number generator.
Intel® Boot Guard
OS Protection from malware, viruses, various types of malicious software attacks.
Intel Control-Flow Enforcement Technology
Protects your system from control-flow attacks by guarding against access and manipulation of legitimate code snippets.
10/100/1000 Gigabit Network
Just when you thought life couldn't go any faster, technology changed the rules. Using more bandwidth and full-duplex capacity, the 10/100/1000 Gigabit Ethernet will have you connecting with the Internet or your other devices faster than you can say gigabit.
Bluetooth® 5.2
Bluetooth 5.2 features include improvements to audio transmission enabling dual stereo channels to simultaneously receive your streamed audio. Also new, a single audio feed can now be streamed to and synced by multiple devices. Bluetooth 5.2 continues to offer precise device location, transmission security for computers, mobile devices, and a host of other wireless technologies such as digital assistants, headsets, home audio equipment, and IoT devices.
Thunderbolt 4
Thunderbolt 4, like its predecessor, continues to be lightning fast, enabling a full 40GB/s for up to 2m of cable so you can quickly share HD files between devices or back up large volumes of data in no time. And, it can still deliver up to 100 watts of charging power for your smartphone or laptop. That's a whole lot of power and versatility for a tiny port. The improved capabilities of Thunderbolt 4 port enable dual 4K , or a single 8K display output, and require 32GB/s PCIe bandwidth. According to Intel the, Thunderbolt 4 controller 8000 series is compatible with, "the hundreds of millions of Thunderbolt 3 PCs and accessories already available."
Support Section
Vendor Warranty:
Parts: 1 Year Limited

Labor: 1 Year Limited
Micro Center 15 Day Return Policy
We guarantee your satisfaction on every product we sell with a full refund - and you won't even need a receipt.* We want you to be satisfied with your Micro Center purchase. However, if you need help or need to return an item, we're here for you!
If an item you have purchased from us is not working as expected, please visit one of our in-store Knowledge Experts for free help, where they can solve your problem or even exchange the item for a product that better suits your needs.
If you need to return an item, simply bring it back to any Micro Center store for a full refund or exchange.
*If you are a Micro Center Insider or if you have provided us with validated contact information (name, address, email address), you won't even need your receipt.
Accelerate Your Returns with Micro Center's Online Return Check-in!
Desktop / notebook computers, tablets, processors, motherboards, digital cameras, camcorders and projectors, 3D printers, 3D scanners, and CD/DVD duplicators may be returned within 15 days of purchase. All other products may be returned within 30 days of purchase. Merchandise must be in new condition, with original carton/UPC, and all packaging/accessories/materials. If you need to return software, a game or a movie, remember that you may not retain any copies - it's not legal, and it's not nice.

Wireless Phones & Devices
The following products are not eligible for return: VR Headsets, Headphones, including Airpods, Earbuds, Over the Ear Products, Microphones, Microphone Accessories, and Wireless Phones
Refunds will be credited to the credit card or debit card account used for the original purchase.
Micro Center Support:
Walk-in Tech Support
As a service to our customers, Micro Center offers in-store technical support. Stop in any of our store locations during regular business hours, and our expert staff will answer your computer questions or help you with things like: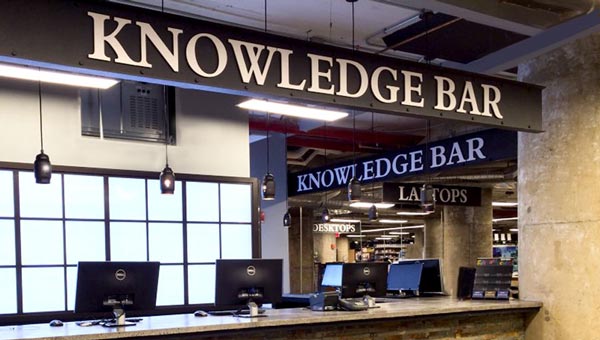 Hardware troubleshooting
Wireless and wired networking
Software configuration
Upgrades
Tips and tricks
Support for Micro Center purchases
If you need help with products purchased from Micro Center, please contact one of our knowledgeable tech support reps using the online chat button below, or visit our Tech Support page for additional options and helpful information.
Chat with Tech Support

Tech Support Hours
Monday - Friday 9 am to 12 midnight
Saturday 10 am to 12 midnight
Sunday 11 am to 9 pm
Eastern Time
* excluding posted holiday hours
Free assistance is available for the first 60 days on new purchases, excluding internal hardware installations or networking support. Your invoice reference number will be required for free assistance.
Ask your Support Technician about additional options available through our exclusive Priority Care Program.
Tech Support accepts the following credit cards: VISA; MasterCard; Discover; American Express
Support Resources
Vendor Warranty:
Parts: 1 Year Limited

Labor: 1 Year Limited
Micro Center Community
Knowledge Base
Dell Alienware m15 R6 15.6" Gaming Laptop Computer - Black

Intel Core i7 11th Gen 11800H 2.3GHz Processor; NVIDIA GeForce RTX 3070 8GB GDDR6; 16GB DDR4-3200 RAM; 1TB Solid State Drive
No longer carried