Lian Li

Lian Li UNI FAN SL120 Fluid Dynamic Bearing 120mm Case Fan - 3 Pack White
Overview
Software Controlled fan speed/LED lighting. Embedded magnetic Fluid Dynamic bearing to provide stability, durability and longevity. 32 LEDs in each fan to provide smooth lighting effect. Quick PINs contact connection to provide ease of installation.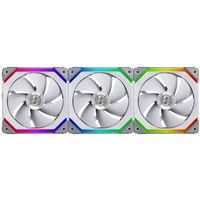 Lian Li UNI FAN SL120 Fluid Dynamic Bearing 120mm Case Fan - 3 Pack White
Usually ships in 5-7 business days.