ASUS ASUS ROG Strix GA15 Gaming PC Platinum Collection

AMD Ryzen 5 5600X 3.7GHz Processor; NVIDIA GeForce RTX 3060 12GB; 32GB DDR4-3200 RAM; 1TB SSD boot drive+1TB HDD
SOLD OUT at Chicago Store

Overview
AMD Ryzen 5 5600X 3.7GHz Processor
NVIDIA GeForce RTX 3060 12GB
32GB DDR4-3200 RAM
1TB SSD boot drive+1TB HDD
Microsoft Windows 10 Pro
10/100/1000 Network
2x2 Wi-Fi 6 802.11ax+Bluetooth 5.0
Elevate your everyday gaming experience with the powerful ROG Strix GA15 Gaming PC Platinum Collection. This battle-ready desktop is equipped to deliver silky smooth visual for everything from competitive esports to AAA games.
---
Eligible for Free Upgrade to Windows 11 when available from Microsoft
This device comes with Windows 10 and is eligible for a free Windows 11 Upgrade. The Windows 11 Upgrade will be delivered online to qualifying devices starting in late 2021 and into 2022. Timing will vary by device. Certain features require specific hardware requirements be met. See Microsoft Windows 11 Specifications and Requirements for additional information.
---

Micro Center's PLATINUM COLLECTION is our collection of high-quality, name-brand, fully-built, exclusive-to-Micro-Center, gaming desktops and laptops – in entry-level to high-end enthusiast configurations available at the best possible price. From hardcore gamers, to working professionals, to tech enthusiasts who thrive on having the latest technology – these PLATINUM COLLECTION Gaming Desktops and Laptops will provide the power you crave, no matter what your budget!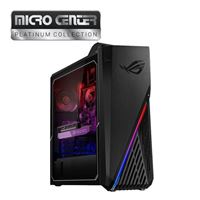 ASUS ROG Strix GA15 Gaming PC Platinum Collection

AMD Ryzen 5 5600X 3.7GHz Processor; NVIDIA GeForce RTX 3060 12GB; 32GB DDR4-3200 RAM; 1TB SSD boot drive+1TB HDD
SOLD OUT at Chicago Store