Cooler Master

Cooler Master PBT Doubleshot Backlit Keycap Upgrade Set Mint Green for Mechanical Keyboards, Compatible with Standard US 104 Layout Keyboards
Overview
Fits most mechanical keyboards and optical keyboards. Made of high quality PBT for a more durable and oil-resistant finish. Avoid your keycaps getting shiny and worn down after extended use. Unique doubleshot construction process for clear fonts to let RGB backlighting shine through. The most popular OEM profile, suitable for most cherry MX switches and Cherry-like switches.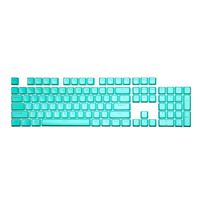 Cooler Master PBT Doubleshot Backlit Keycap Upgrade Set Mint Green for Mechanical Keyboards, Compatible with Standard US 104 Layout Keyboards
Usually ships in 5-7 business days.