ASUS ASUS RT-AX82U GUNDAM Edition AX5400 Dual Band WiFi 6 Gaming Router

PS5 compatible; Mobile Game Mode; Lifetime Free Internet Security; Mesh WiFi support
Overview
PS5 compatible
Mobile Game Mode
Lifetime Free Internet Security
Mesh WiFi support
2.5G Port
Gaming Port
Adaptive QoS
Port Forwarding
Proudly clad in a heroic white color scheme inspired by the RX-78-2 GUNDAM and boasting Earth Federation Space Force branding, the ASUS RT-AX82U GUNDAM Edition dual-band WiFi 6 router delivers extraordinarily fast and smooth gaming connections. Along with ultrafast WiFi speeds of up to 5400 Mbps, RT-AX82U GUNDAM Edition is packed with advanced technologies such as Mobile Game mode, which ensures lag-free, low-latency mobile gaming experiences.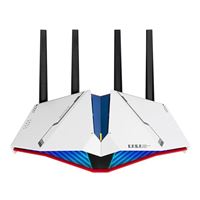 ASUS RT-AX82U GUNDAM Edition AX5400 Dual Band WiFi 6 Gaming Router

PS5 compatible; Mobile Game Mode; Lifetime Free Internet Security; Mesh WiFi support
Usually ships in 5-7 business days.