Inland

Inland Slim Fixed TV Mount 32"- 55"
Overview
This fixed TV wall mount is designed to fit any 32"-55" flat panel TV up to 35kg/77lbs and the steel thickness is just 1.2mm but strong enough. Super slim design sits just 20.5mm from wall to complement the sleek look of ultra-thin TVs. It features an open design which maximizes airflow to equipment and provides easy access to the back of components. It also allows lateral shift adjustment, allowing the TV to slide left and right on the wall plate so its positioned exactly where you want it. This fixed-position mount is perfect for viewing your TV at eye level.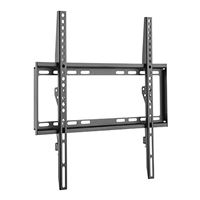 Inland Slim Fixed TV Mount 32"- 55"