Dell Dell XPS 8940 Gaming PC Platinum Collection

Intel Core i7 11700 2.5GHz Processor; NVIDIA GeForce GTX 1660 Super 6GB GDDR5; 16GB DDR4-2933 RAM; 1TB HDD + 500GB SSD
Overview
Intel Core i7 11700 2.5GHz Processor
NVIDIA GeForce GTX 1660 Super 6GB GDDR5
16GB DDR4-2933 RAM
1TB HDD + 500GB SSD
10/100/1000 LAN + WiFi 6 WLAN
Windows 10 Pro
Create without limits using the all-new XPS Desktop. Featuring powerful performance, a minimalist design and a highly expandable chassis.

Micro Center's PLATINUM COLLECTION is our collection of high-quality, name-brand, fully-built, exclusive-to-Micro-Center, gaming desktops and laptops – in entry-level to high-end enthusiast configurations available at the best possible price. From hardcore gamers, to working professionals, to tech enthusiasts who thrive on having the latest technology – these PLATINUM COLLECTION Gaming Desktops and Laptops will provide the power you crave, no matter what your budget!
See More PC Desktop Computers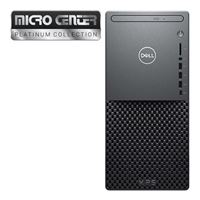 Dell XPS 8940 Gaming PC Platinum Collection

Intel Core i7 11700 2.5GHz Processor; NVIDIA GeForce GTX 1660 Super 6GB GDDR5; 16GB DDR4-2933 RAM; 1TB HDD + 500GB SSD
Usually ships in 5-7 business days.