Overview
With the space saving 3 foot version sleek socket, less is more. Less clutter. Less hazards. Less obstacles. The sleek socket is a home decor product that completely hides ugly, unsafe and bulky plugs and cords via a unique ultra-thin design that's about the thickness of a pencil on top of an outlet. Up to 90% thinner than traditional plugs, the sleek socket is thinner than the average baseboard. The sleek socket drastically reduces, and in some cases completely eliminates obstructions between furniture and traditional plugs attached to an outlet. Now move furniture flush against the wall! Every sleek socket includes an adhesive cord management kit of neatly and firmly secure the cord to the wall. The included (5) one inch adhesive cord clips adhere to your wall for a snug fit.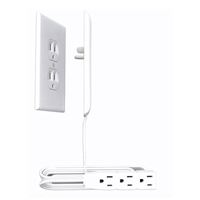 Sleek Socket Ultra-Thin Electrical Outlet Cover with 3 Outlet Power Strip and Cord Management Kit, 3-Foot, Standard Size
Available for In-Store Pickup Only.