Overview
The Sleek Socket enhances your home decor while hiding ugly and unsafe plugs and cords, all while allowing full use of covered electrical outlets. The patented, ultra-thin wall-hugging cover creates an uncluttered, wireless look. No tools required! The Sleek Socket flat plug conveniently attaches over a "standard" size duplex outlet cover. Simply attach to the top receptacle of a duplex outlet like an ordinary plug. Less clutter, less obstacles, less hazards. The Sleek Socket is up to 90% thinner than traditional plugs and cords. The Sleek Socket is much thinner than the average baseboard and sits pencil thin on top of an outlet. The wall-hugging design blends with walls, youll forget its there! Includes double-sided adhesive strips to neatly secure the cord against the wall.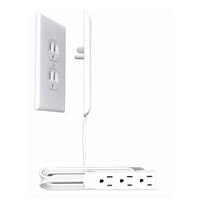 Sleek Socket Ultra-Thin Electrical Outlet Cover with 3 Outlet Power Strip and Cord Management Kit, 8-Foot, Standard Size
Available for In-Store Pickup Only.