Redragon

Redragon GW900 1080P Autofocus Webcam with Built-in Dual Microphone, 360-Degree Rotation - 2.0 USB Skype Computer Web Camera - 30 FPS for Online Courses, Video Conferencing and Streaming
Overview
Redragon GW900 webcam contains 6 double-sided fully coated antireflective film optical lenses, help provide clear and bright picture quality. This webcam features 2.07 pixels with up to 1920 x 1080 HD video recording. Frame rate of 1080@30fps in autofocus at up to 2.1 Meters. Has a built-in 2-channel stereo, noise reduction, dual microphone. Supports Windows XP SP2 or later, Windows 7/8/10 or later; Mac OS 10.6 or later; Linux 2.6.24 or later; Google Chrome OS 29.0.1547.70 or later; Android V 5.0 or later; Smart TVs and TV boxes; Xbox One or later; Ubuntu Linux 10.04 or later.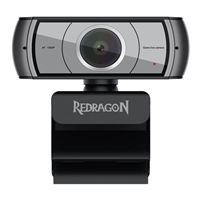 Redragon GW900 1080P Autofocus Webcam with Built-in Dual Microphone, 360-Degree Rotation - 2.0 USB Skype Computer Web Camera - 30 FPS for Online Courses, Video Conferencing and Streaming
Usually ships in 5-7 business days.